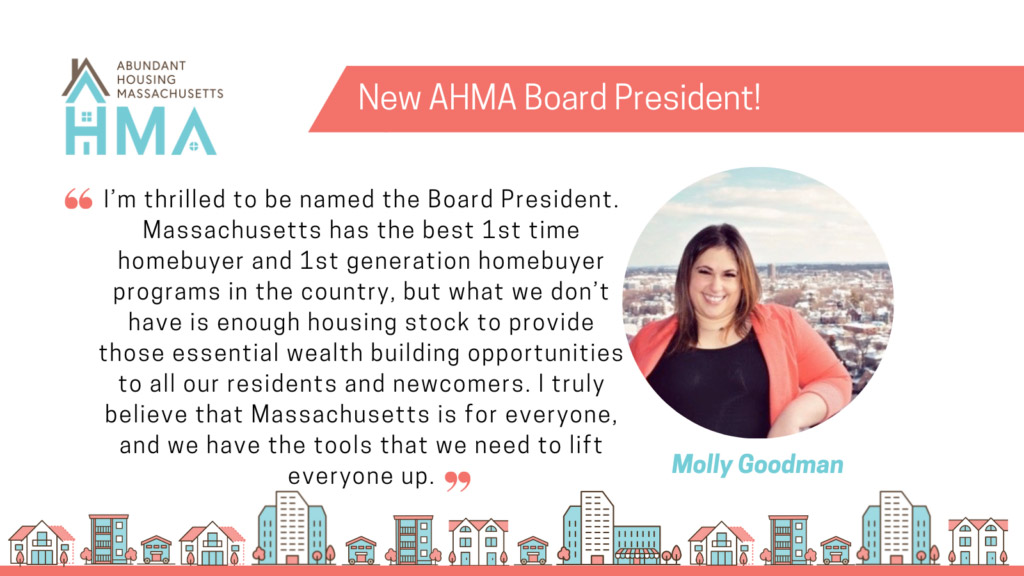 On behalf of Executive Director, Jesse Kanson-Benanav, AHMA is pleased to announce the following leadership transitions on our Board of Directors:
Upon completing her term as board president, Beyazmin Jimenez is now President Emerita.
Molly Goodman has stepped into the role of Board President.
Elijah Romulus, Senior Comprehensive Planner at Old Colony Planning Council, has joined as a new Board Member.
Current Board Member, Andrea Aldana, has stepped into the role of Board Clerk.
Board President, Molly Goodman, extends her utmost gratitude to departing Board Member and President Emerita, Beyazmin Jimenez, for the monumental contributions she has made to the formation of AHMA. She writes…"This time four years ago we were a bunch of volunteers meeting at CIC every other week to hammer out the final YIMBYtown 2018 logistics. Two years ago we were sitting at Jesse's dining room table with our attorney hammering out the logistics for our articles of incorporation for AHMA. Now we are a full-fledged organization primed to make change in Massachusetts and we wouldn't be here without Beya's leadership ….".
On stepping into the Board President role, Molly says that helping to found Abundant Housing MA has been one of her proudest accomplishments to date. She writes "I'm thrilled to be named the Board President. Massachusetts has the best first-time homebuyer and first-generation homebuyer programs in the country, but what we don't have is enough housing stock to provide those essential wealth building opportunities to all our residents and newcomers. I truly believe that Massachusetts is for everyone, and we have the tools that we need to lift everyone up."
Board president, Molly Goodman, also welcomes Elijah Romulus, currently Senior Comprehensive Planner at Old Colony Planning Council, to the AHMA Board of Directors. As a leader in urban planning and environmental policy, Elijah understands the intersectional solutions needed, from production/zoning reform to sustainable development practices, needed to address the housing crisis.
On his passion for housing advocacy and move to join AHMA's board he writes "Everyone has the right to an adequate standard of living and to the highest attainable standards of physical and mental well-being. This is why housing is such a critical issue. We should do our best to ensure there is affordable and accessible housing for those in need." The AHMA board is excited to work with Elijah!