Update: Abundant Housing & Beer POSTPONED
AHMA staff and board are thrilled with the overwhelming response we received to our Abundant Housing and Beer event, originally scheduled for tomorrow (Thursday, 9/9). We quickly exceed our expectations for the number of tickets claimed by members and guests!
Unfortunately, it appears Mother Nature will not cooperate and this outdoor event will be rained out.
But have no fear! Thanks to our kind hosts at Night Shift Brewing we have rescheduled the event for Thursday, September 30th at 6:00 PM. All previous AHMA member RSVPs and non-member tickets claimed for the 9/9 date will be honored on 9/30. If you purchased a non-member ticket for 9/9 but are unable to attend on 9/30, please let us know ASAP so that we can process a refund and make your spot available to others.
---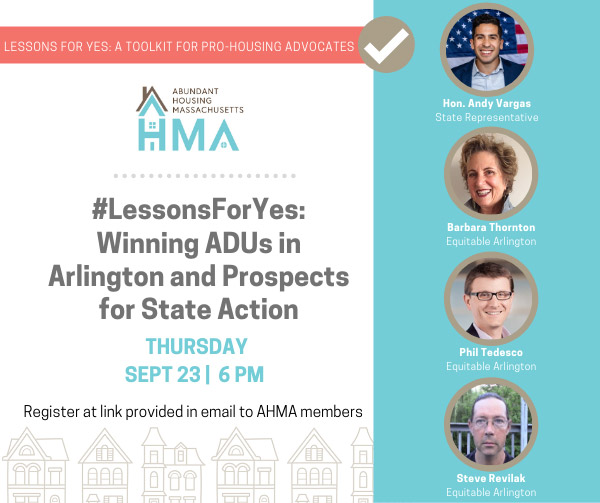 This past spring Arlington Town Meeting adopted a strong ADU by-law thanks to the advocacy of Equitable Arlington members, a local pro-housing group and new affiliate of AHMA. Accessory Dwelling Units (ADUs) are a tool more cities and towns in MA should use to gently increase the number of homes and build greater housing choice in their community. Arlington's new ADU bylaw, which allows accessory homes by-right, without any additional off-street parking, and in all residential districts of town provides a model that pro-housing advocates could pursue in other Massachusetts communities.
AHMA members are invited to join us for the next in our #GettingToYes series: "Lessons to Yes: Winning ADUs in Arlington and Prospects for State Action." In this webinar we will hear from three members of Equitable Arlington about their successful campaign for a strong ADU bylaw, including how they drafted the bylaw's language, advocated for it at Town Meeting, and overcame past obstacles to secure this victory.
We will also be joined by Representative Andy X. Vargas of Haverhill who sponsors H.1448, a bill pending on Beacon Hill this legislative session that would, among other important zoning reform impacts, help facilitate the creation of new accessory homes in more communities across the Commonwealth.
This event is offered as a benefit to AHMA members. All current AHMA members should have an email with registration link already in their inboxes. If your membership is current but haven't received the link please email us to get the link.
If you wish to attend but aren't yet an AHMA member we hope you'll join us right away. Your annual membership entitles you admission to this and future member events!
---
AHMA is hiring – come join our team!
AHMA is pleased to announce that we are hiring a Statewide Organizer to help grow the grassroots pro-housing movement in all corners of Massachusetts. This is a full-time, salaried position with great benefits! A complete job description can be found on the AHMA website. If you know someone with community organizing, policy advocacy, or other relevant experience that you think would be a great match for our organization/mission please send them our way!