This past week, the Supreme Court served a devastating blow to housing and tenant advocates by lifting the federal eviction moratorium. The decision puts hundreds of thousands at risk of being put out of their homes during a critical period of the pandemic with the surge of the Delta variant, the start of hurricane season affecting regions across the country, and the return to school for many of our children and students.
Only about $5.1 billion of the $46.5 billion in aid had been disbursed by the end of July 2021, according to figures released on Wednesday, as bureaucratic delays at the state and local levels snarled rent payment payouts.
Representative Cori Bush, a Missouri Democrat who slept on the steps of the Capitol this month to protest the expiration of the previous moratorium proclaimed rightfully "We already know who is going to bear the brunt of this disastrous decision: Black and brown communities, and especially Black women."
Indeed, Matt Desmond's book Evicted lists the eviction crisis as the top issue affecting Black women-led households. Black women are evicted at alarming rates setting off a chain of hardship across families and their communities including food insecurity, job loss, and stagnating economic mobility.
Many have heard me share the story of my own family's struggles with housing instability. The product of a single-parent household, I know too well the anxiety that the first of the month brings to a family barely making ends meet. I accompanied my immigrant mother to housing court month after month to plead on behalf of our family against eviction. The shame, sadness and burden experienced by our family played out in full display at these settings. We were often in line with other tenants facing eviction all at the mercy of private landlords and district judges. Even when payment terms were decided, the fear of eviction and displacement remained. It tainted our relationship to our home and left us on edge even months after a resolution had been reached. Living in uncertainty and under the threat of eviction depletes a family of the joyful bond that should be felt at home. The meaning of home now comes with a sharp expectation – it is available to you only up until the point where you can afford to keep it.
An eviction record for a tenant already struggling to pay basic needs is a death sentence – it's the last strike against an already tumultuous situation. Having an eviction on your record often closes you and your family out from safer neighborhoods, better housing opportunities and marrs your record for years to come. An eviction can set off a chain of events that affect every single area of your life – from housing, to health & food access, and your inner sense of belonging.
Our team at Abundant Housing MA has pulled together a list of resources for our network to distribute. Help us support renters and tenants across the Commonwealth in staying housed. We need to address our housing crisis with urgency and that includes advocating for those who are most vulnerable.
Beya Jimenez
AHMA Board President
---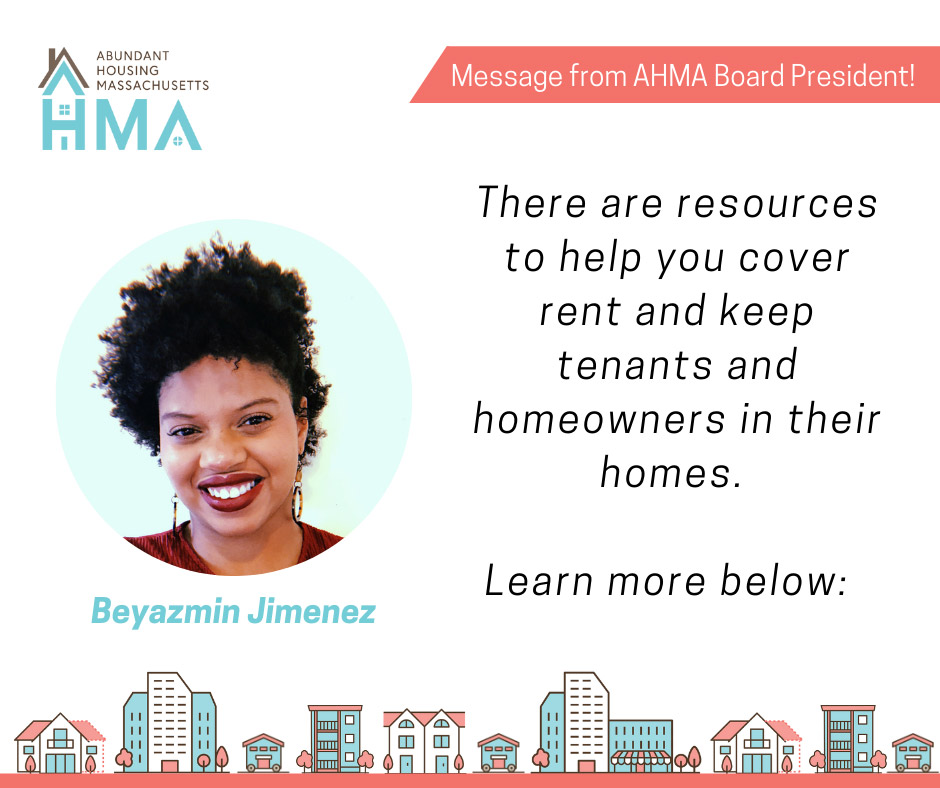 Rental Relief Assistance
Federal Emergency Rental Assistance Program (ERAP) may provide up to 18 months of ​help with overdue and/or future rent (rent that was due on or after 3/13/20), ​as well as some help with utility costs.  Applicants must have had a COVID-related financial hardship.
The Emergency Rental Assistance Program (ERAP) can assist tenant households with total gross household income below 80% of Area Median Income (AMI), and includes the RAFT and ERMA programs. Apply for rental assistance with your regional administering agency here (Link to the full application)
IMPORTANT: When you apply, you will have to document your income, housing, and other household information. It is very important you submit a complete application with required documentation. If your application does not have all required documents, or accurate contact information, it will take additional time to process.
For those that do not qualify for ERAP, the Residential Assistance for Families in Transition (RAFT) and Emergency Rental and Mortgage Assistance (ERMA) programs may provide income-eligible households with up to $10,000 to pay overdue or future rent, or mortgage ​or utility costs. There is one application for all three programs, staff at regional agencies will determine your eligibility. Learn more about each of these programs at the link below: 
https://www.mass.gov/info-details/emergency-housing-payment-assistance-during-covid-19
COVID-19 Eviction Diversion: Receiving a Notice to Quit
I got a notice to quit. What do I do?
In Massachusetts, a lInandlord must send a tenant a Notice to Quit before the landlord can file a summary process (eviction) action. The Notice to Quit is a legal document that formally notifies the tenant that the tenancy will be terminated on a specific date.   A Notice to Quit is not an order to leave your apartment on the date of the lease termination.
NOTE: IF YOU RECEIVE A NOTICE TO QUIT YOU DO NOT NEED TO IMMEDIATELY LEAVE YOUR UNIT. YOU ARE ENTITLED TO A LEGAL PROCEEDING IN WHICH YOU CAN DEFEND AGAINST THE EVICTION. ONLY A COURT ORDER CAN FORCE YOU TO LEAVE YOUR UNIT.
If you have received a Notice to Quit for nonpayment of rent, do not ignore or discard it. You should immediately contact your landlord to try to work out a payment plan. Legal Resource Finder will connect you to information for legal aid programs, nonprofits, government agencies, and court programs that may be able to help you with your legal issue for free or at a low cost. You can then contact your local Housing Consumer Education Center to learn if you are eligible for rental assistance.
---
Lawyers for Civil Rights provides representation, advice, and referrals primarily for residents of Massachusetts and surrounding communities who experience discrimination or harassment in employment, housing, education, or voting. LCR is launching a new pro bono initiative to connect those who need help paying rent or other housing expenses with volunteers who can help complete an application for RAFT or the City of Boston's Rental Relief Fund.
Lawyers for Civil Right legal volunteers can help families at risk of losing their housing during the unfolding public health and economic crisis by assisting them with their RAFT and rental relief applications. If you need free housing support please submit your request here.